How to Spruce Up your Place for a Summer Sale
Posted by Ri Prasad on Monday, June 13, 2022 at 6:42 AM
By Ri Prasad / June 13, 2022
Comment
f you're interested in putting your home on the market, doing so during the warm summer months is a great idea. Once temperatures increase and plants begin to grow, it's much easier to enhance a home's curb appeal. Pair those curb enhancements with some interior upgrades and you'll be on your way to a speedy summer sale.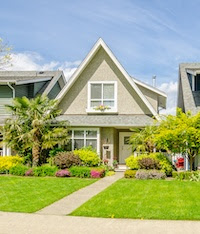 Address Curb Appeal with Easy Tasks
When you want to spruce your place up, you should first devote some of your attention to addressing your home's curb appeal. Your home's exterior will be the first thing that potential buyers see when they visit your home. Making a good first impression is essential towards converting prospective buyers into legitimate offers.

Consider giving your front door a fresh coat of paint. Use bright colors like yellow or red to set the scene for the warmer summer months. If the door is relatively old, you may want to replace it entirely to get a better return on your investment. Make sure that your lawn is kept freshly mowed and that any noticeable weeds are pulled.

Consider New Appliances and Bathroom Upgrades
The two most important rooms for most buyers are the kitchen and the bathroom. You could enhance the appeal of your home by upgrading bathroom amenities or purchasing new kitchen appliances. In fact, stainless steel appliances are particularly tempting to new buyers according to a recent survey by HomeLight. You might also consider painting these rooms in a light neutral color to reflect more light and make them appear bigger.

As for bathroom upgrades, you could replace your lighting, paint your vanity, or upgrade your faucets. Even small touches like adding a nice rug or installing a beautiful shower curtain could enhance your home's appearance.

Don't Forget to Stage your Home
If you want potential buyers to be interested in your home, they need to be able to envision living there while they tour your property, which means that the place shouldn't be completely empty. It's also important that your home is free of clutter and doesn't include too many personal items. If you're finding it difficult to properly stage your home, consider hiring a staging professional.

Add Some Plants and Artwork
During the hot summer months, your home interior should have a cool and calm atmosphere. You can achieve this environment by using cooler paint hues, adding some indoor plants, and hanging calming artwork. Travel and aquatic-themed pieces are a great choice during the summer.

Whether you're ready to sell this summer or a year from now, I can help you decide which improvements make the most sense for your property - call me anytime!