7 Easy Hacks To Make Over Your (Ugly) New Home
Posted by Ri Prasad on Wednesday, July 6, 2022 at 6:04 AM
By Ri Prasad / July 6, 2022
Comment
This brutal real estate market has pushed buyers to the brink of their budgets, and some have even had to settle for a house that's in need of some major TLC. Best-case scenario, you found a place with great bones that needs minor cosmetic updates. Worst case? The exteriors are off-putting, the interiors are woefully outdated, and the decor is totally not your style.
If you had unlimited bucks, you'd rip everything out down to the studs and start over. But, like most new homeowners, you're probably on a fairly tight budget. So what if we told you there are some simple (and affordable) hacks that can make your place look fabulous? Yeah, we thought you'd be up for that.
Check out our expert-approved home improvement ideas for how to take your place from cheesy to charming.
1. Start with the outside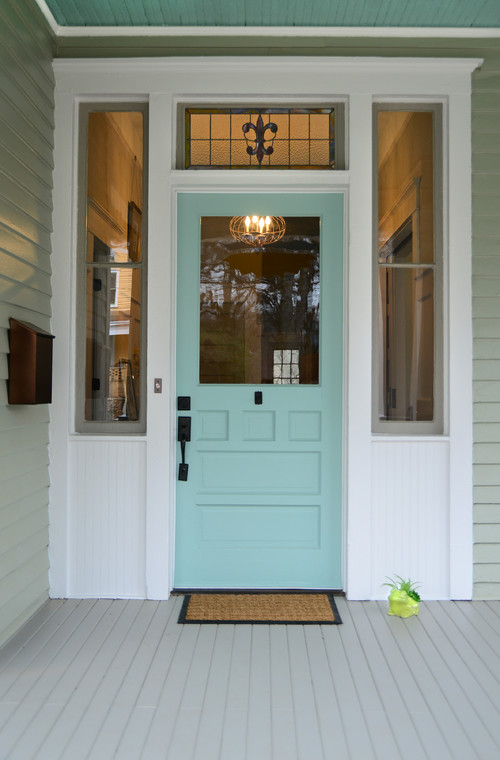 If the exterior of your home desperately needs to be rescued from whatever era it was built in, there are many things you can do.
"Homeowners can easily remove shutters, change out the front door and hardware, and update the exterior lighting," says Shannon Holmes, a Realtor® and interior designer at RealtySouth in Birmingham, AL.
You can also change up the landscaping by planting flowers in the ground or in a pot by your front door.
2. Work on the walls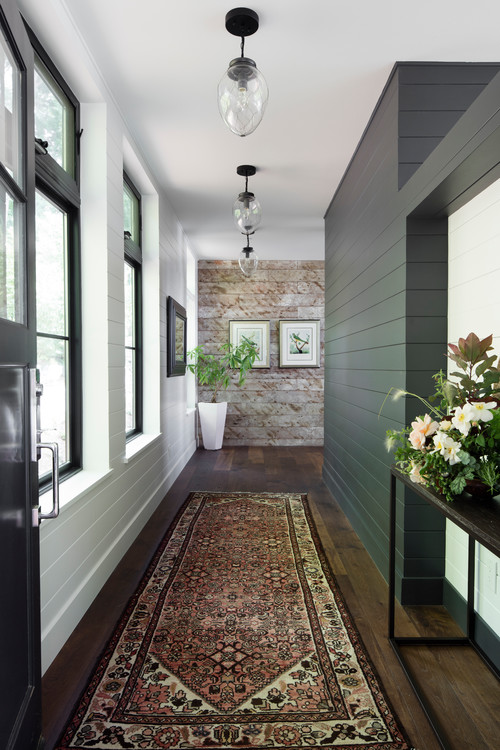 The cheapest way to instantly re-invent a house is by painting your walls white, says Lisa Mara Bry, a Realtor® at KW Vermont who also co-owns Farm Home, a design-build company in Stowe, VT.
"Trust me: All interior designers typically paint most walls in a shade of white, and my go-tos are Sherwin-Williams' Alabaster and Benjamin Moore's Simply White, in an eggshell finish," says Bry. "Then, paint your trim a brighter shade of white."
Cursed with ugly wallpaper? Think twice about attempting to remove it.
"You're going to spend your life taking down all the layers of wallpaper in some of these old houses, so just go right over it with Sheetrock, shiplap, or new wallpaper," Bry says.
3. Give your floors a new look
Can't stand the carpeting throughout your home? Pull it up before you move in. And, if you're lucky, there will be hardwood underneath that you can bring back to life.
"We renovated a house where we ripped up the carpets, thinking we'd sand and refinish the hardwood floors, but they were so damaged that refinishing them would still not look great, so we painted them," Bry recalls. "Painting hardwood floors can really make an awesome difference if it's done and sealed correctly. Paint them all the same neutral color—like white, dark gray, or even black—so the whole room looks big."
4. Update a dated fireplace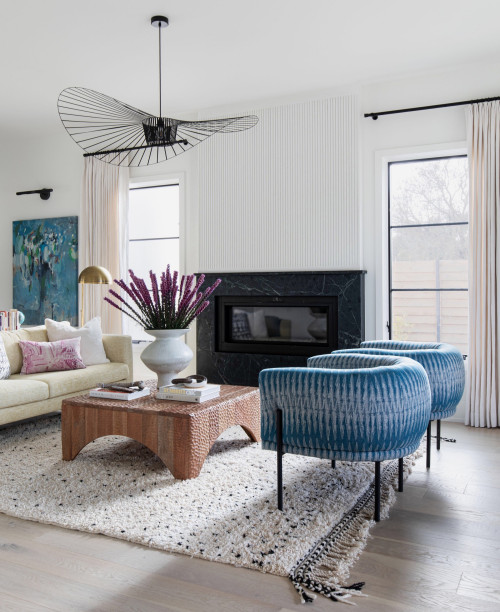 Traditional fireplaces can be refaced with a sleek-looking tile or stainless-steel finish that's more contemporary, says Holmes.
If the fireplace facade is brick, consider whitewashing it or painting it a modern shade of black or dark gray.
Black stains from soot and smoke can be removed by rolling on a fireplace cleaner like ChimneySaver, which peels off the next day, taking the grime with it.
5. Treat your kitchen to a fabulous face-lift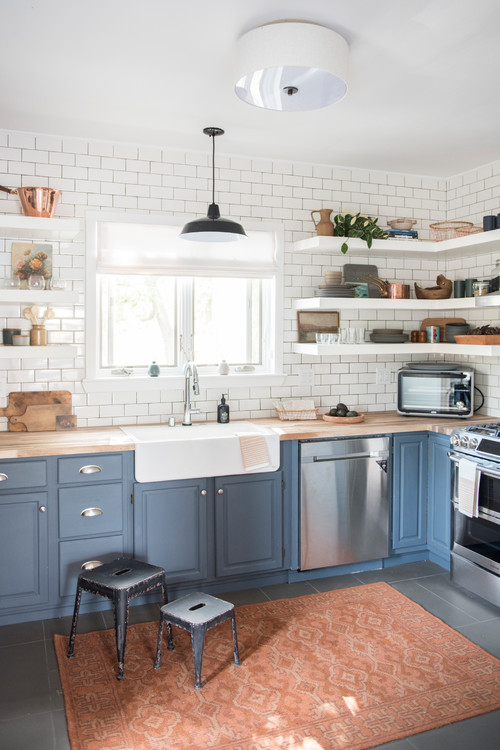 If your kitchen cabinets are of good quality, Bry suggests painting them to contrast your walls.
"If the walls are white, I would go with a light taupe or a gray. Abalone from Benjamin Moore is a beautiful shade of gray that coordinates really well with everything," Bry says.
Switching out the cabinet hardware is also a budget-friendly fix.
"It's typically the knobs and pulls on the cabinets that make them look old-fashioned, so I would definitely switch those out and go with something modern and sleek," Bry says.
6. Take your bathroom to the next level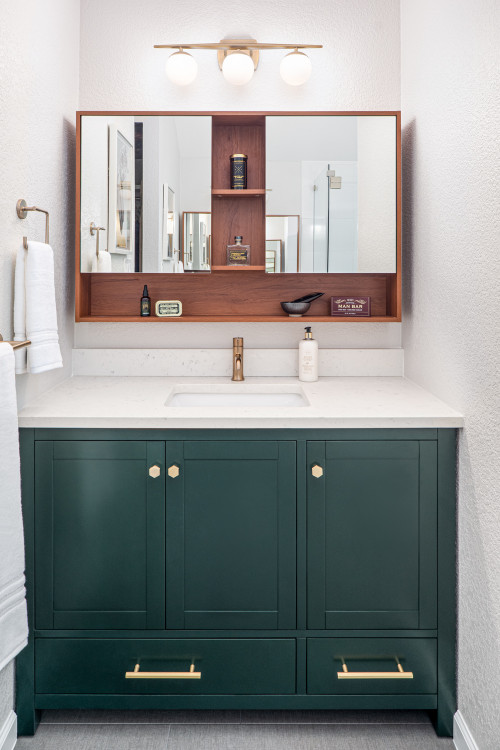 Light fixtures can date a bathroom, and luckily, that's an easy and affordable fix.
"You can spend $100 per light fixture—make sure it's rated for bathrooms—and that changes the whole room," says Bry.
Not happy with your vanity? You can install a new one for anywhere from $300 to $3,000, according to HomeAdvisor.
"You can even take an old piece of furniture and convert it into a vanity. Or paint the existing vanity and put new pulls on it," Holmes suggests.
Other easy bathroom fixes include painting the walls, putting up a beautiful mirror, and switching out your shower curtain.
7. Keep the furnishings fun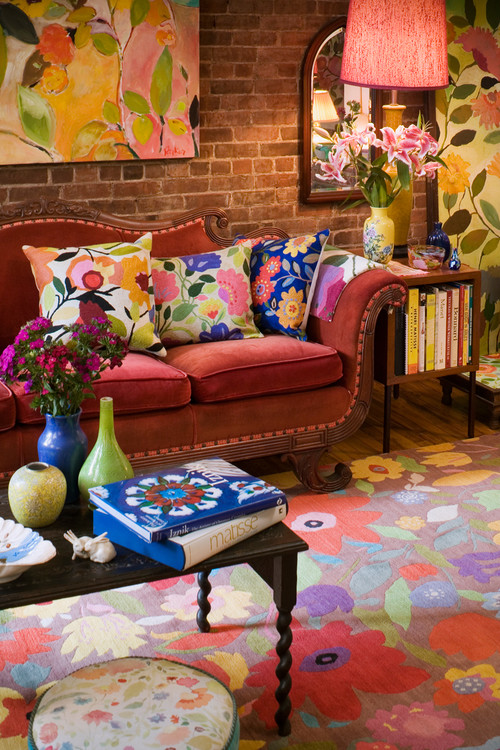 Once the big jobs are done, it's time to fill your new home with one-of-a-kind treasures.
"Thrifting on Facebook Marketplace or Craigslist is a great way to find gems," says Holmes. "With new paint, you can really turn an old piece into a showstopper in one afternoon for almost no money."
"Scouring vintage and secondhand stores is one of my favorite activities to do," Bry says. "Have fun with your house; make decorating it an experience and an adventure."
Not every addition or improvement is going to add value to your home.
Here is a list of the Top Home Improvements that provide the largest ROI (Return on Investment) on every project.
The biggest part of the process is identifying the right contractor to work with. You will also recieve my full guide of contractors, painters, plumbers, electricians, handy-people, and more!