How to Combine Decorating Styles for a Cohesive Look
Posted by Ri Prasad on Wednesday, March 29, 2023 at 7:30 AM
By Ri Prasad / March 29, 2023
Comment
Whether you're moving in with your significant other or accommodating the belongings of multiple generations, combining decorating styles can feel daunting. But even the most disparate styles can come together for a cohesive look—and it's easier than you think. From tackling entire houses to integrating lifestyles in shared living spaces or merging styles in children's rooms, five design pros share their tips and tricks that work for any equation. These real-life examples and expert insights will have you confidently combining pieces for a comfortable and consistent home.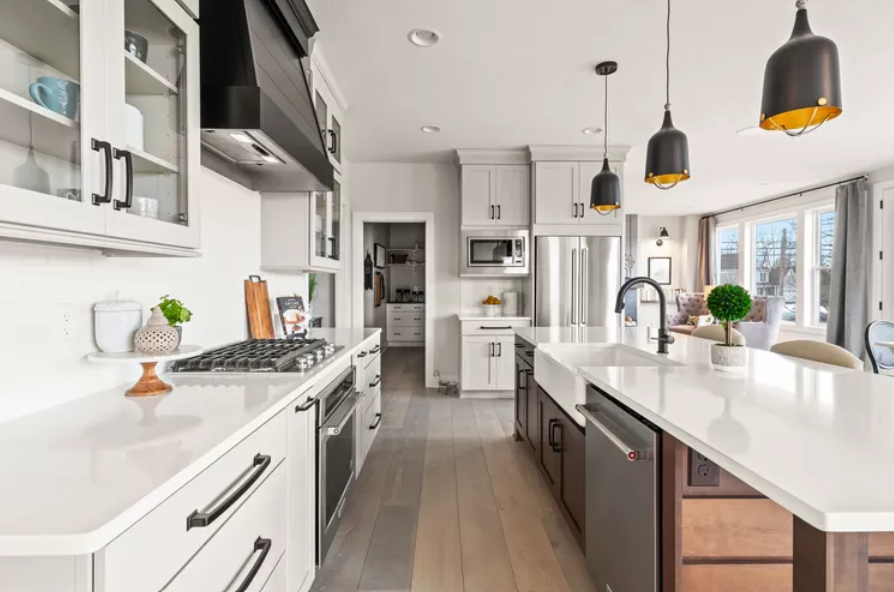 What to Know Before Blending Styles
Encouraging everyone to get involved initially will go a long way to making the merging of styles successful. It not only helps everyone to be invested in—and understanding of—the process and outcome, but it wialso ll start to illuminate the threads that ultimately tie together a cohesive look.
Acknowledge Limitations
One of the first things to do is acknowledge size and space limitations. It's likely you can't keep every piece of furniture; maybe some duplicate items will need to go or perhaps a few pieces are just too big for the available space.
Determine Non-Negotiables
Early on, it's also important to identify the must-keep items that you simply can't part with, says Maria Adcock, founder of Bicultural Mama. "Perhaps your partner's outdated tea set is actually a family heirloom. Or your child's doodles on scrap paper are part of a project she's working on," she says. According to Adcock, asking about non-negotiables is important because it shows respect and collaboration.
Adcock suggests starting with this because it creates an understanding of where everyone is coming from. It also encourages everyone to identify what they like and why. Rather than just making observations about someone's style, allowing everyone to talk about what they like can help find commonalities to build upon. Shared features are a key part of creating a cohesive look, and recognizing the things that both parties like will create a more welcoming home for all.
How to Combine Decorating Styles
1. Don't Divide a Room
It might seem easier to designate individual rooms as specific styles—a contemporary kitchen, a cottage bath, a farmhouse bedroom—but the result is less than cohesive. Similarly, don't fall into the trap of simply grouping like items together within one space, like a collection of nautical decor in one corner of an otherwise floral space. Combining style elements within the room, and in most rooms of the house, will create a better balance overall.
2. Choose a Neutral Foundation
Amie Freling of interior design brand Meme Hill Studio recommends warm neutrals like greige as a backdrop for merging styles. Neutral surfaces are a good foundation for those who are nervous about combining styles, as well as for those who are merging pieces that contain a lot of colors, because neutrals accentuate what's around them rather than compete against them.
On the other hand, a dark, moody color can be a great canvas to blend traditional and modern, says Freling. Not every room in the house has to be the same, but setting a base for every space will help with combining other elements.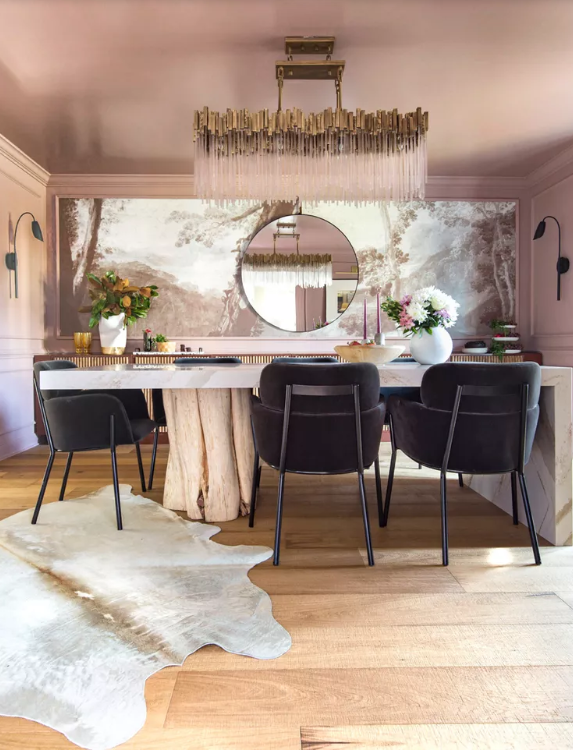 3. Be Intentional with Color
"An easy way to keep an eclectic style cohesive is to stick to a methodical and intentional color palette," says designer Jewel Marlowe of Jeweled Interiors. "If the color scheme is tailored, then it is easier to pull off the surprise of mixing two or more unexpected styles together."
Look for color inspiration from must-have items and pay attention to the shades the existing styles already include. Also, don't forget the 70/20/10 rule for mixing colors: 70% for one color (like walls and floors), 20% of the room for another color (furniture), and 10% (accents) for the third color. (The 20/80 rule works well for two colors.) A color palette can help determine which items come together in a single room, too
4. Consider Scale
"One of the hardest hurdles to combining two styles is to master the scale, or size of the furniture pieces in relation to each other," says Marlowe. Some styles are traditionally oversized and bulky, while others are sleek and short. Though there are exceptions, Marlowe says it looks best when most items are generally the same scale. For instance, a tall coffee table that sits much higher than a low sofa's seats might look off and be awkward to use.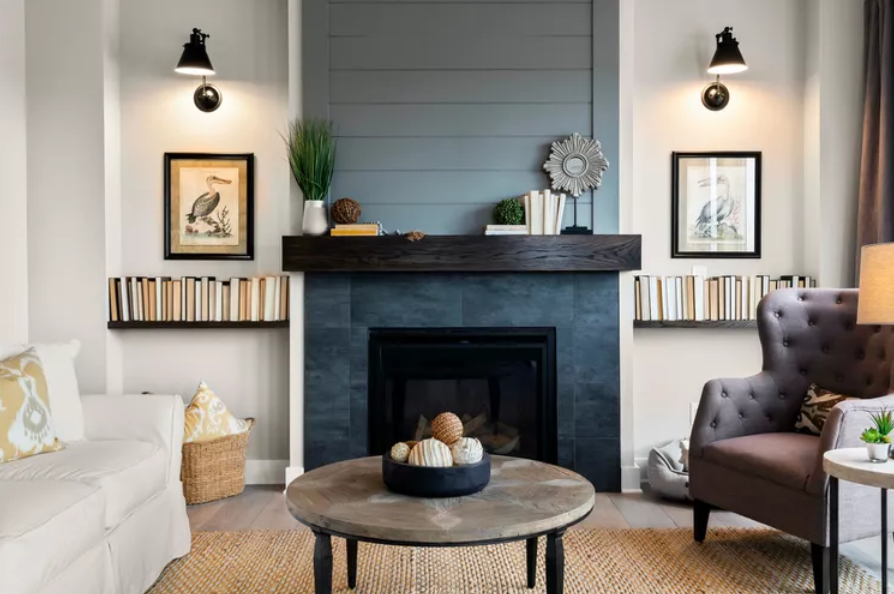 5. Strive for Balance
When one partner was drawn to wood and dark colors, while the other preferred brightness and shades of white, Freling created a kitchen that provided both. Warm wood-tone floors balance a dark wood island, range hood, and lighting, which contrast lighter cabinets, walls, and countertops.
6. Repeat Shapes and Patterns
A cohesive combined style is not about a homogenous look, but making sure elements don't feel out of place. The repetition of shape, pattern, and texture within a room and around the home will help differing styles live harmoniously. Try a mix of subtle reiterations and bold similarities on textiles, furniture shapes, wall decor, and flooring patterns.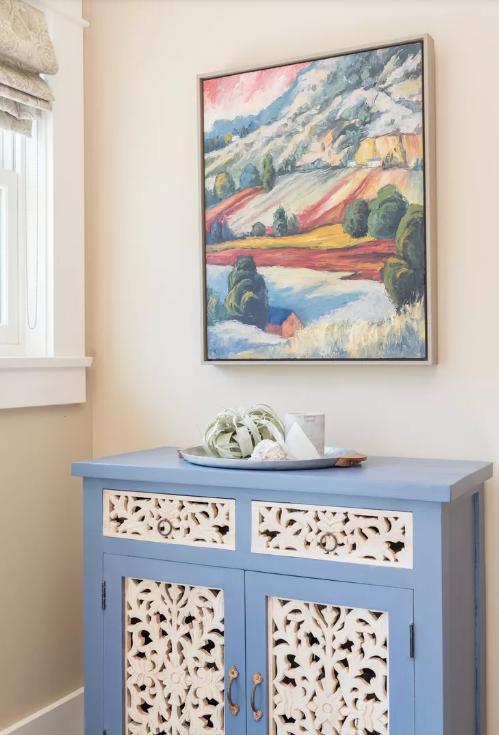 7. Update Old Furniture
For recently married clients merging their beloved art collection and travel acquisitions, Ariana Lovato, owner and principal designer at Honeycomb Home Design, used existing and updated pieces to tie everything together in their Craftsman-style home. An antique console repainted in a hue inspired by a vibrant piece of art allowed both pieces to fit comfortably in the space. "Paint is the most inexpensive way to transform anything!" she says. Similarly, to bring new life to outdated furniture, Lovato revived the dated fabrics and colors of an antique settee with a textured slate-blue velvet that brought the same blues into the room.
8. Don't Get Hung Up on Themes
If one home has a contemporary bend, while another leans farmhouse, it's easy to think about what defines (and differentiates) those styles. "When combining opposite or different design styles, I try to find one detail that they each absolutely love and work around two features rather than an entire theme," says Freling. It's just another reminder that talking about what you like will make it easier to create a unified look.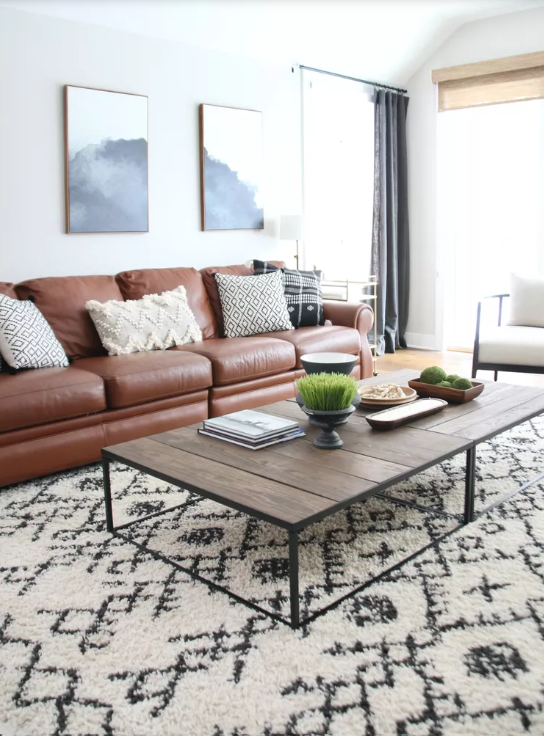 9. Build Around Non-Negotiable Pieces
"When families move or blend, there is always a piece that I am asked to make work," says Freling. A family with a modern aesthetic wanted to keep their grandma's more traditional sofa, so Freling positioned it in a bright space to balance the size and saturated dark color. She added clean-lined open furniture as modern counterparts. "It turned a dated piece into an inviting anchor of the room," Freling says. An alternate route is to take something that's totally different than the rest of the space and showcase it, using the contrast as a focal point.
10. Carve Out Individual Spaces
Making room for personal space can alleviate some of the stress of combining styles. This might be a specific room for one person, like an office, bedroom, or recreation space, or it can be as simple as having an individual desk or nook in a shared kids' room. "Carve out a space just for one and let them have free reign," says Joy Williams, the designer behind Joyful Designs Studio. Williams' fiancé took over the attic, where records, DJ equipment, and other personal items can be used, arranged, and displayed without worrying about the rest of the home. These individual spaces also allow the person to make decisions about their own style and choose what is important to keep, things that grow and change over time.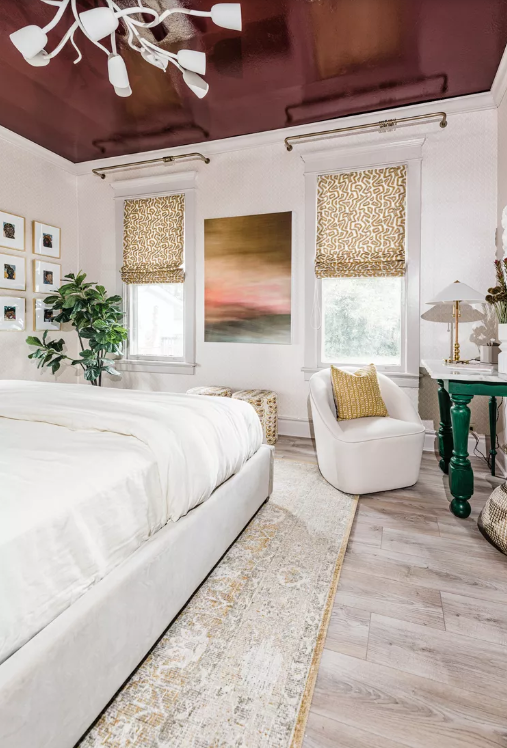 11. Compromise for Success
In Williams' experience, a compromise comes with its own opportunity. "I gave up the idea of not having swivels or recliners in the home, but I got to choose style, color, textiles," she says. In their bedroom, a comfortable chair serves the function that her fiancé loves—his preferred lounge spot for relaxing and watching TV—while she picked the look. The rest of the room balances their shared love of dark colors with the feminine flair that she favors. "He gets his comfort and I maintain the overall aesthetic of our home," says Williams. Another example: a sleek, contemporary tiled floor can be warmed up with a plush rug.
12. Incorporate Blank Space
Incorporating plenty of blank wall space and open floor space not only gives the eye a break, but it also helps stop you from trying too hard to fit it all together. This physical and visual breathing room prevents crowded and chaotic spaces. You can always strategically add or replace decor, furniture, and other fixtures later.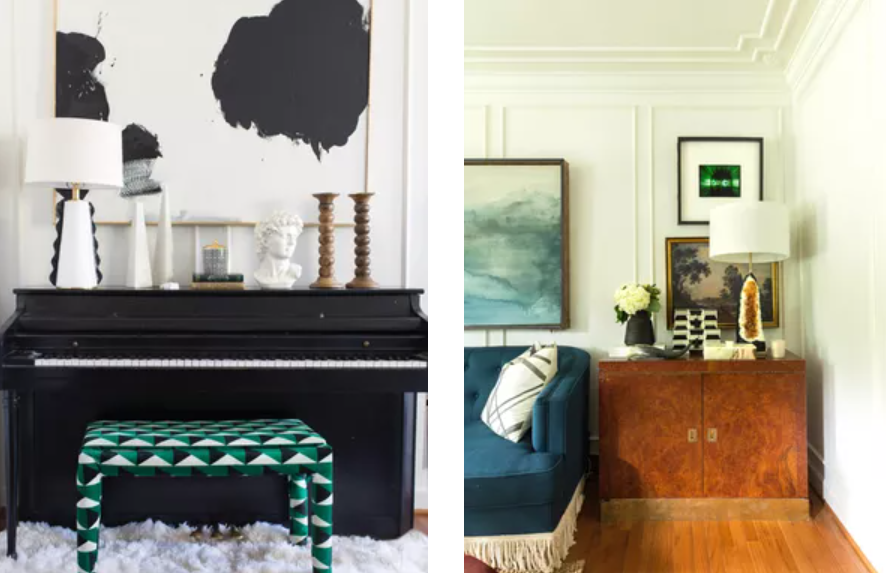 13. Think in Vignettes
If it's a bit overwhelming to tackle an entire room (or home!), "think of it as an opportunity to create statement-making vignettes," says Marlowe. Marlowe talks about having an Instagram side of the brain—thinking in terms of vignettes or smaller areas of a room—and a design side of the brain, which looks at whole rooms. Narrowing your focus to specific areas allows you to find the right mix of items that embrace various styles—like pairing a mid-century modern credenza with an ornate Victorian mirror.
Once you've found pairings that work together, you can take in the whole room and identify ways for each vignette to flow together. "Sometimes being forced to learn to decorate with multiple styles can ultimately lead to a unique and beautiful personal style," says Marlowe.
To hear more about making your home your own, check out our new podcast, The Better Buy, where guests like Carmeon Hamilton share more information about decorating, DIY, and more.
If you're planning to buy or selling your house, work with a real estate professional so you have the expert insights you need to make the best possible move today and we would love to assist, please fill out the form below.
WHO IS RI PRASAD LUXURY GROUP?
We are one of Chicago's leading providers of comprehensive real estate services. We are home to an ever-growing team of savvy & reputable local realtors who are community leaders, and customer-service-oriented staff. Whether you're looking to find a new home, sell your home, or invest in your future; let us be your trusted real estate advisors.
"Real Estate isn't just a profession, it is truly a obsession" - Ri Prasad