Our take on the mortgage rate volatility
Posted by Ri Prasad on Wednesday, October 5, 2022 at 11:00 AM
By Ri Prasad / October 5, 2022
Comment
Riding the interest rate rollercoaster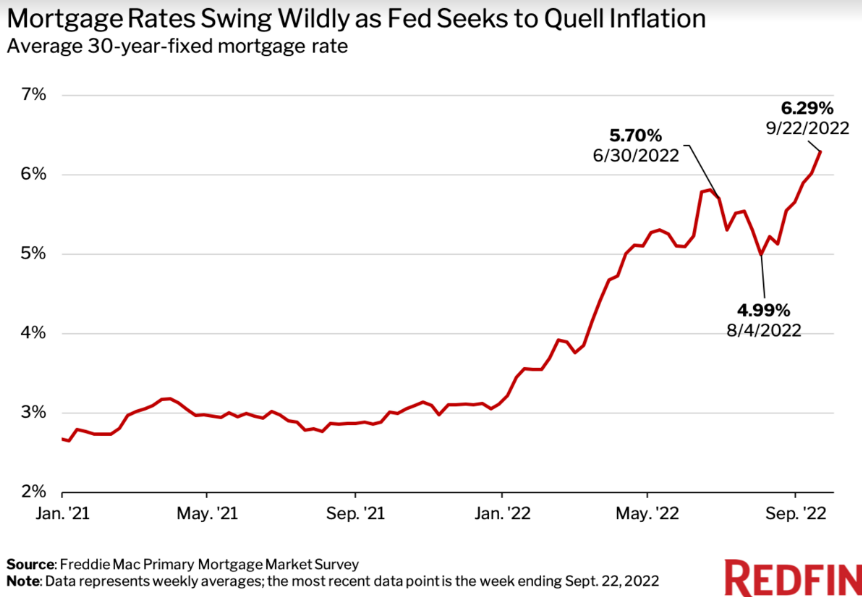 Source: Redfin
We're in the middle of the most significant mortgage interest rate volatility since 1987. Much of it is caused by the Federal Reserve's inflation-fighting interest rate hikes. Just last week, The Fed raised rates by 0.75% for the third time in a row. Economic uncertainty and fluctuating demand are also adding to the wild rate swings.
The average interest rate on a 30-year fixed mortgage hit 6.87% on Monday, its highest peak since 2002 (for a brief moment, it even hit 7%!)
Over the past 12 months, rates have risen at the fastest pace since 1981
Our take
These interest rate swings are absolutely tough for all of us in the industry. While no one can guess what interest rates will be tomorrow or next week, we do know that rates will keep going up through the end of this year. They most certainly will pass 7%. In the meantime, encourage your buyers to keep in close contact with their lenders so they always know exactly what they're qualified to receive before putting in an offer.
Good news for sellers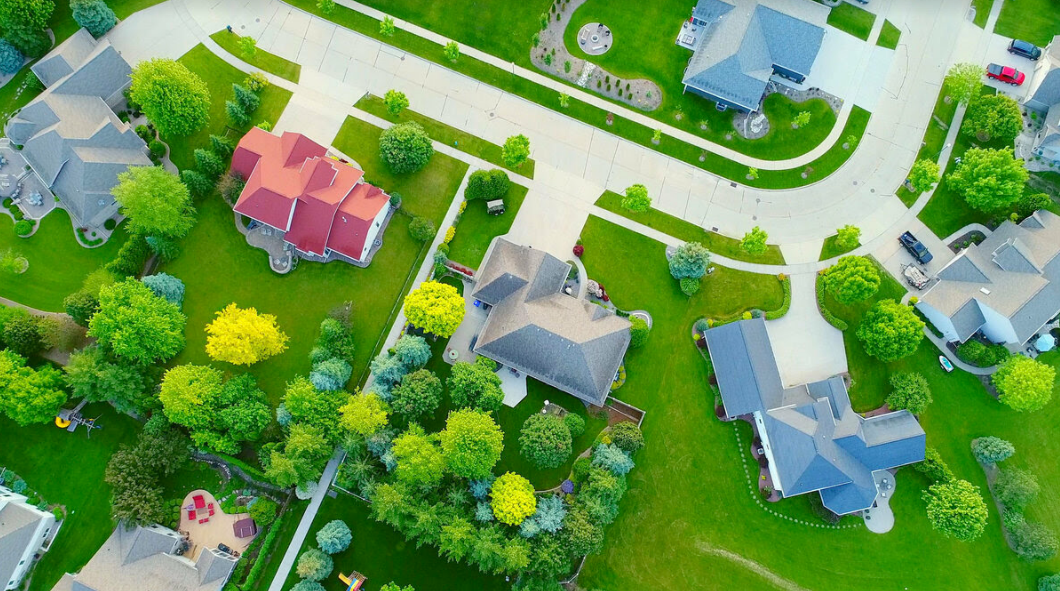 Source: Financial Times
With 7% mortgage interest rates on the horizon, buyers flooded the market in August. According to data from Realtor.com, new home sales surged, partially due to the brief interest rate drop mid-month. Here are key stats from August:
New home sales jumped 28.8% month-over-month, the 2nd-biggest new home sales jump on record
The Northeast saw the greatest increase in new home sales, up 66.7% month-over-month
Our take
LFG
It's just what we've been saying—buyers are hungry for a great deal now that the competition has slowed down. They realize they finally have room to negotiate, and that there's great inventory out there if they're willing to look for it. We're telling our clients that this is the perfect time of year to buy. They can find a home they love at a great price and get fully settled in before the holidays.
As the market cools, these cities perform best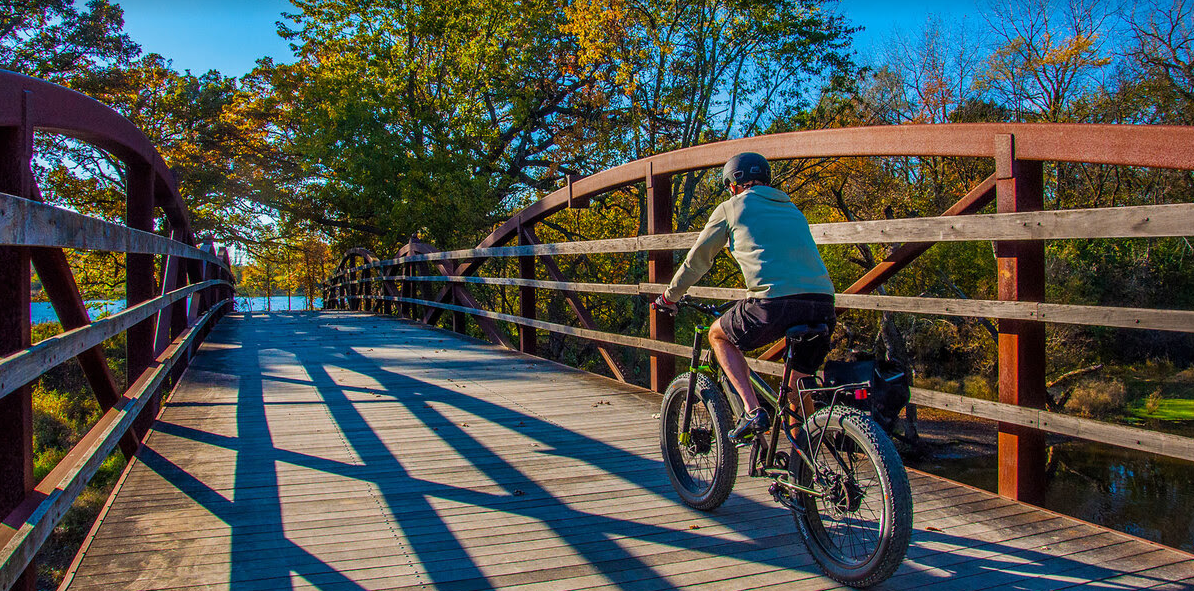 Source: Visit Lake County
Redfin released a list of the top cities likely to hold up best as demand drops. According to their report, certain Midwest and East Coast cities are more likely to weather the recent market. They studied metrics like home prices, price fluctuations, days-on-market, supply, and pending sales. They found that, in these cities, prices weren't dramatically impacted by the surging demand we've seen these past two years.
These are the top cities best positioned to weather the cooling market:
Lake County, IL

Albany, NY

New Haven, CT

Milwaukee, WI

New Brunswick, NJ / Elgin, IL (tie)

Bridgeport, CT

Pittsburg, PA

El Paso, TX
10. Rochester, NY
Our take
As market trends shift over the next year, we're expecting to see some more suburban cities emerge as real estate hot spots. In these pockets, there's a lot of opportunity for both homeowners and investors to find a great deal. Stay sharp and stay ready. You never know when your local market will become the new Austin!
The Blueprint Spotlight
Just in Case
Keep the latest industry data in your back pocket with today's mortgage rates: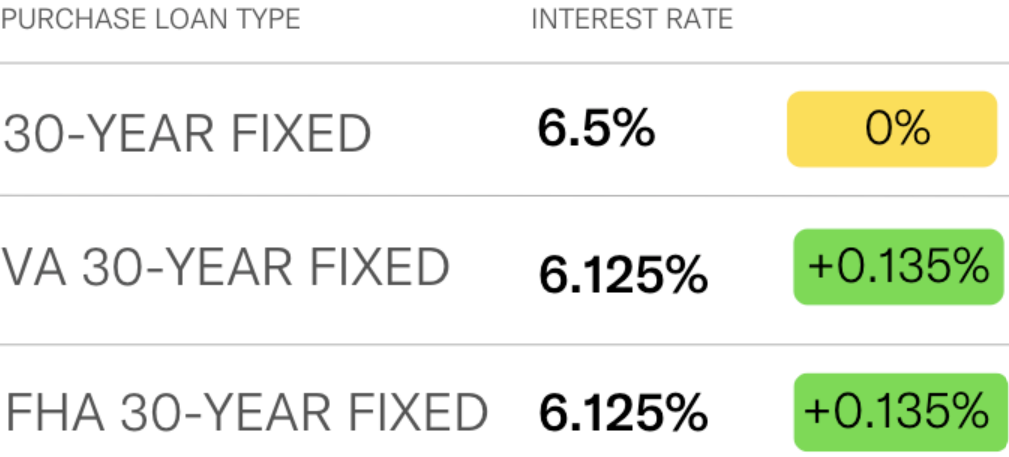 Source: Rocket Mortgage
If you are looking to buy or sell, we would love to assist, please fill out the form below.
WHO IS RI PRASAD LUXURY GROUP?
We are one of Chicago's leading providers of comprehensive real estate services. We are home to an ever-growing team of savvy & reputable local realtors who are community leaders, and customer-service-oriented staff. Whether you're looking to find a new home, sell your home, or invest in your future; let us be your trusted real estate advisors.
"Real Estate isn't just a profession, it is truly a obsession" - Ri Prasad