Spooked About the Word "Recession" or Potential Housing Bubble...
Posted by Ri Prasad on Thursday, April 7, 2022 at 10:35 AM
By Ri Prasad / April 7, 2022
Comment
If history repeats itself with how the Feds have handled inflation such as they are doing now, the charts would indicate a future recession. The media has been negative on housing for the last 8 years, with talks of inflation, recession, and housing bubbles, which could scare our buying population, let's explain what's happening without the fear mongering – if we believed the media for the last 8 years, we would have missed out on the wealth creation we've seen!
IMPORTANT NOTE: interest rates usually decline during a recession and house values usually continue to incline.
Here are two charts showing appreciation (an increase in home values) year after year and the recessions we encountered. Notice that there was a steady incline from 2000 to 2007, where we had a housing bubble* which led us to a recession; And then we recovered, notice home values continued upward.
Keep in mind during this period, builders stopped building spec homes and slowed greatly, leading to the supply issue we have today.
So should history continue to repeat itself, then we are not looking at the recession to impact housing value, couple that with the lack of supply and the years it will take for the builders to catch up and build more homes. Appreciation continues to happen because we have a supply and demand issue.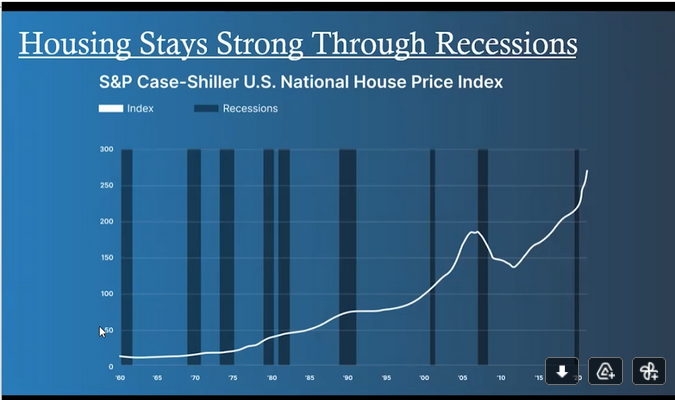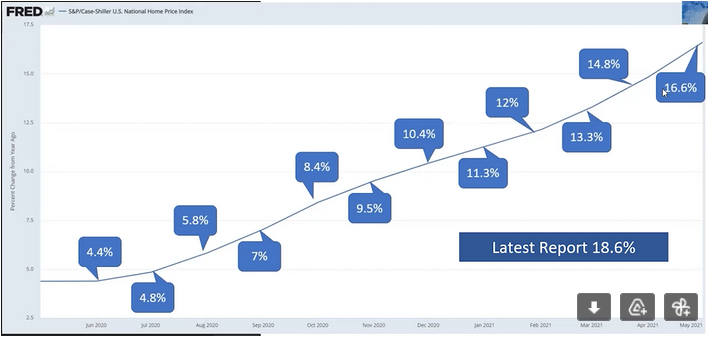 * Housing bubble – during this period we had too much supply, not enough demand, opposite of what is happening today. Lending cast a wider net, encompassing those with a 580 FICO, no income no asset loans, 100% loan to value, meaning no down payment. Add in the banks who were selling those subprime mortgages bundled as A paper, and appraisals giving higher values just based on countertop choices. My condensed version, hope this helps! As a result, the Feds put in place appraisal guidelines, banking, and lending guidelines, it was a complete overhaul to prevent this from happening in the future. While we may see some broker lending channels open to serve the market that can't fit into traditional lending, it's a small part of the market, and the rest of the factors are not there to repeat this same housing bubble that we saw in 2007.
These are my opinions, based on research, listening to analysts and the reports charted thru MBS highway. Note the second chart does not represent the current S&P CoreLogic Case-Shiller National Home Price Index which now shows home prices at 19.2% change from a year earlier. I do welcome anything you have to add, or politely disagree, please do share!
Stay tuned to hear a conversation around mortgage rates – how it's discussed so you can digest the new normal.