Which Generation Dominated in Home Purchases in 2021?
Posted by Ri Prasad on Friday, March 25, 2022 at 8:30 AM
By Ri Prasad / March 25, 2022
Comment
What Did 2021 Teach Us?
By 2050, an estimated 83 million Americans will be over the age of 65. To give you some perspective, that number was just 43 million in 2012!

We compiled a few fascinating statistics from NAR's 2021 reports.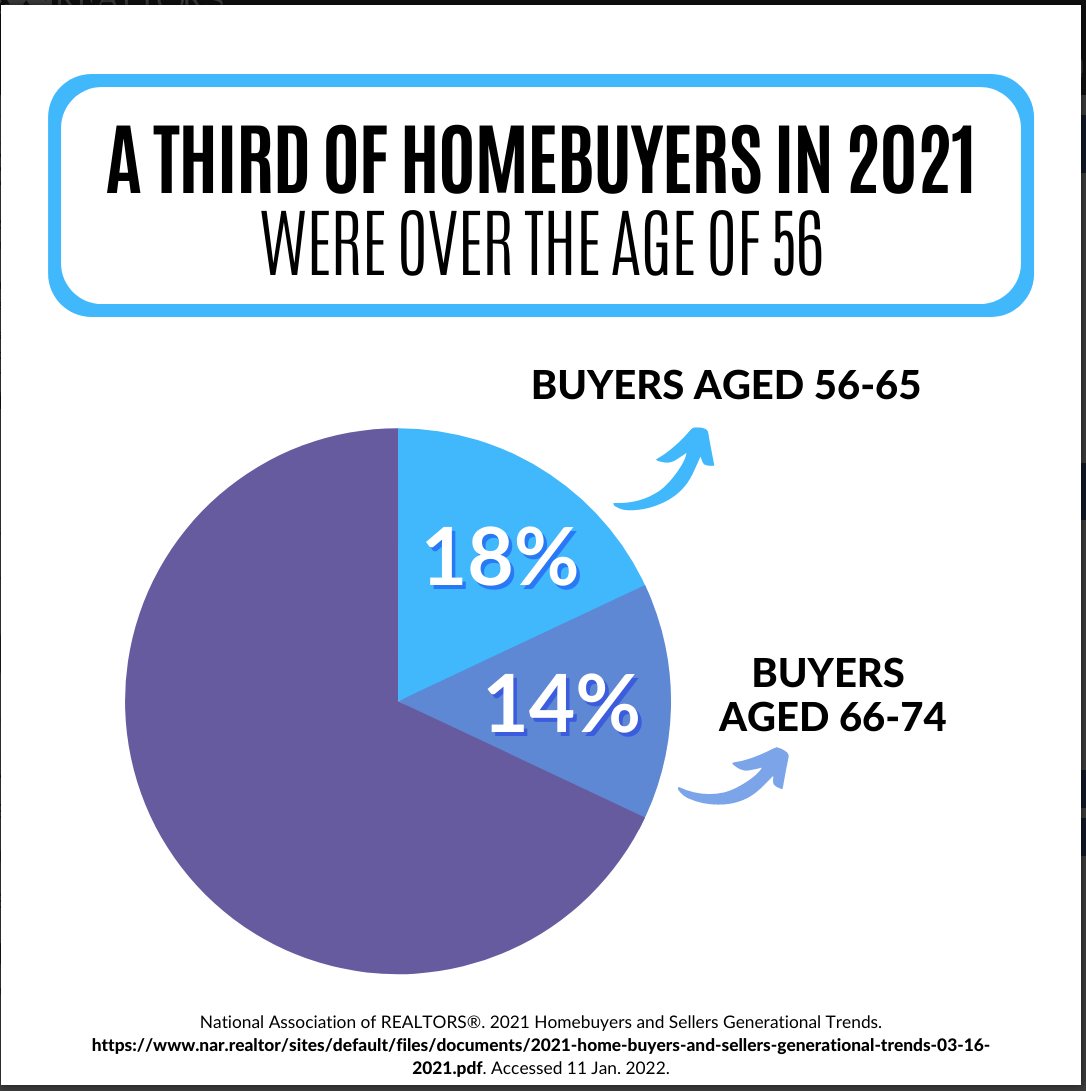 The U.S. is set for a massive change in what our population looks like. There were more than 43 million Americans aged 65 and older in 2012. By 2050, that number will jump to 83 million. As our demographics change, the types of clients you work with will change along with it. The senior market has different needs than say, a millennial first-time homebuyer. You won't find much success taking a one-size-fits-all approach when working with these clients. Here are some of the trends in the senior market to better serve this growing group of Americans.
MULTIGENERATIONAL HOUSING
One of the biggest emerging trends in the senior market is the rise of multigenerational housing. One-in-five seniors now live under the same roof as someone from a different generation, according to the Pew Research Center. In 2016, the amount of Americans in multigenerational housing reached its highest level ever, at 64 million.
That statistic lines up well with the 2018 National Association of REALTORS® Home Buyer and Seller Generational Trends report, which looks at who are buying homes and why. In 2017, around one-in-five homebuyers over the age of 52 bought a home for the purpose of multigenerational living. Adult children moving back into the home was one of the biggest reasons why these buyers purchased their home.
When engaging with multigenerational buyers, keep in mind that they may have different needs than some of your other senior clients, such as:
School Districts: Households made up of a grandparent, adult child and a grandchild number about 30 million, according to Pew.
Privacy: Ask how the rooms will be used instead of how many bedrooms these buyers are seeking. What is appropriate for a young child may shift for an older teen, who may benefit best from a finished basement to host their friends.
Accessibility: Keep floorplans at the top of your list. Accessibility needs may change as the family ages with the home. A suite with stairs could be easy for a senior today but becomes unusable over time.
CO-LIVING
Older Americans are less likely to live alone, reversing a 60-year trend. One positive reason: better healthcare has increased life expectancy, so people are now more likely to live with their spouse than be widowed. The rise of multigenerational housing can also explain the trend.
But an increasing group of seniors see the "Grace and Frankie" approach as a more attractive option than living alone, and AARP expects this trend to grow as more Baby Boomers retire. Why? Studies found older adults living alone are more likely to feel financially stressed and socially isolated than with others. More than a quarter of American adults over 45 said they would move in with a roommate in order to supplement income, according to a 2014 AARP survey.
While the buyers in this age range are the most likely to have purchased a home before, navigating the homebuying process with a pair of unrelated seniors pooling their resources can be tricky. Establish clear guidelines on how to communicate and how decisions will be made in your first meeting.
NURSING HOMES AND "AGING IN PLACE"
Another reason why less seniors are living alone – the steep fall in popularity of nursing homes. The share of older Americans living in nursing homes dropped by double digits since 1990.
"Aging in Place" is a term the Centers for Disease Control and Prevention uses to describe "the ability to live in one's own home and community safely, independently, and comfortably, regardless of age, income, or ability level." The definition sounds empowering. However, studies have found most senior homeowners do not like this term at all.
Even though seniors have a higher quality of life and level of independence than in decades past, the stigmas around aging are well-ingrained in our culture. A survey by Home Advisor found respondents doing renovation work that met the CDC definition of aging in place refused to call it that. REALTORS® should follow the lead of their client when discussing the concept of aging in place to gauge their comfort level. You can add a positive spin to the medical term by instead using "Thriving in Place," a more preferred term.
SMART TECH
Forget the stereotype surrounding technology and the elderly. One third of seniors who purchased a home in 2017 found their agent from the internet. As Silicon Valley has placed a greater emphasis on accessibility, technology has become an important tool to help seniors maintain their independence.
Here are some of the tech-enabled finishes that will appeal to this segment:
Nest Learning Thermostat: This programmable thermostat changes the temperature based on the time of day and the habits of the homeowner. Seniors can benefit by controlling the thermostat with their voice or phone, and use sensors to turn it off when they are gone to save energy and money.
Ring: The ring video doorbell allows homeowners to see, hear and speak to someone at their door from a phone or PC, which is particularly useful for those choosing to live alone.
Wallflower: This smart monitor works to prevent one of the leading causes of fires in the U.S.: cooking. Wallflower converts any existing stove into an internet-enabled appliance that will automatically shut off if it has been on too long.